Message from Head of Middle and Senior School
Stage 4 – Years 7 and 8
Stage 5 – Years 9 and 10
Stage 6 – Years 11 and 12
Beyond Calvary
Traineeships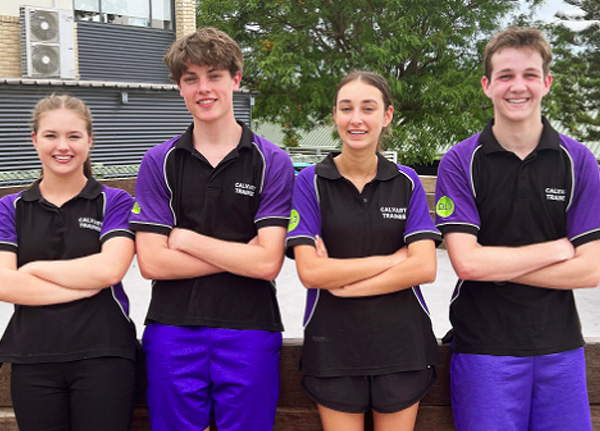 Traineeships – Years 11 and 12
Real World Experience. Learning on the job, gaining industry experience, and expanding their career pathway opportunities beyond school.
Traineeships
Equipped for life
A traineeship at Calvary involves students participating in a certificate course alongside their regular senior schooling. The traineeship takes place one day a week, with each day lasting 7.5 hours.


Traineeships at Calvary include Screen and Media, Business Administration, Hospitality, IT, Education Support, Sport and Recreation and Agriculture.
TRAINEESHIP BROCHURES     VIDEO TESTIMONIALS
The training is conducted by a registered training organization (RTO), which sends a trainer to the student's workplace or during their study time at school. Students can use their private study time to catch up on missed classwork, complete theory for the traineeship, or engage with other subjects they have chosen.
Trainees continue to work during school holidays, dedicating 7.5 hours per week. They have ample time to complete the traineeship before their senior exams in Year 12, as they usually sign up at the end of Year 10 and have two years to complete it.
Calvary partners with various RTOs, offering different qualifications best suited for school-based students. The selection process considers factors such as the student's resume, experience, grades, attitude to learning, and career pathway during the interview, which is conducted by a panel of 2 to 4 people, including the direct supervisor, a representative from Calvary, and potentially someone from the industry.
To be eligible for school-based traineeships at Calvary, students must submit their applications and complete all requirements before the Year 11 rollover, ensuring they can start Year 11 with the appropriate timetable.
We have limited spaces available each year so if you are interested in a traineeship, would like more information interested discussing it further, please contact myself below. 
Emma Fletcher
Careers, Pathways and VET Coordinator
Useful Links
Traineeships Gallery
Click on the images to get a full preview
BACK TO TOP