Message from Head of Middle and Senior School
Stage 4 – Years 7 and 8
Stage 5 – Years 9 and 10
Stage 6 – Years 11 and 12
Beyond Calvary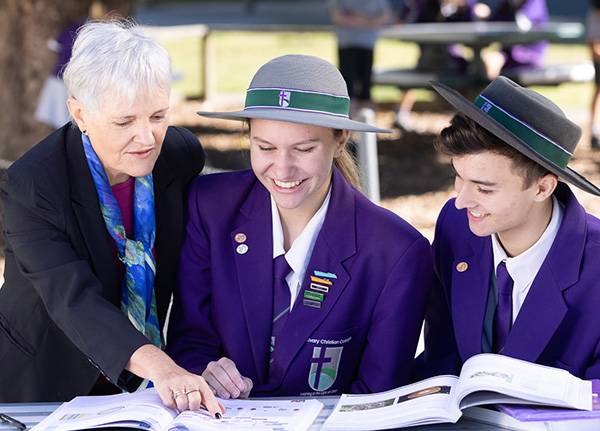 Stage 6 – Years 11 and 12
Future Focused. Demonstrates consistent capacity to influence the community beyond the immediate context. Gateway to lifelong learning embedded in skills and strategies they need to tackle current and future challenges
Stage 6 – Years 11 and 12
Future Focused
Stage 6 (Years 11 and 12) is future focused and forms the gateway for students into life beyond Calvary. Personalized learning pathways and inquiry learning are the foundational elements of our senior program that empower students to consolidate lifelong learning skills and strategies they need to tackle current and future challenges. The Senior School offers a wide variety of ATAR, Applied, and Vocational pathways and traineeships that are tailored to student interest and need. Co-curricular and leadership opportunities promote student agency and voice to empower the leaders of tomorrow.

We are relentlessly committed to growing a rigorous and high performing academic culture and unleashing the potential of our graduates. In a Calvary context, this sits within a holistic approach to education that strongly emphasizes our desire to develop the faith and characters of our young people. Our students know that mastery of curriculum matters, learning skills development matters more, and character and faith formation matters most.


Senior School Subject Selection
At Calvary, we offer an expansive range of pathway choices for our Year 11 & 12 students, comprising of ATAR, Applied, Vocational & Mixed options. We pride ourselves in partnering with your child to help them make meaningful selections. If you or your child have questions, don't hesitate to get in touch with us to assist you in making discerning choices. Click the button below to view or download the brochures.
Useful Links
Year 11 2024 & Year 12 2025 Pathway Subject Selection
Stage 6 Gallery
Click on the images to get a full preview
BACK TO TOP