Message from Head of Middle and Senior School
Stage 4 – Years 7 and 8
Stage 5 – Years 9 and 10
Stage 6 – Years 11 and 12
Beyond Calvary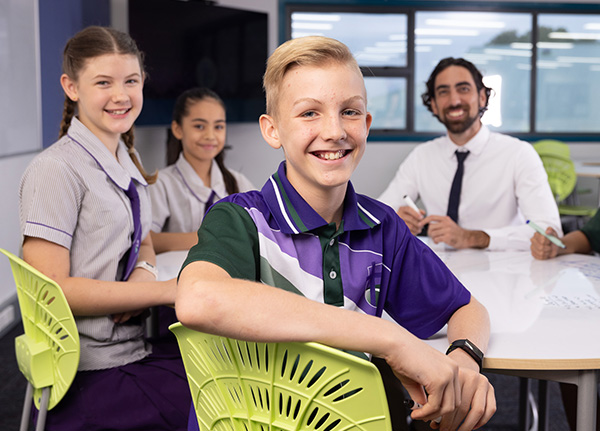 Stage 4 – Years 7 and 8
Developing Global Perspectives. Stronger integration of digital learning environment. Consolidation of Learning Habits.
Stage 4 – Years 7 and 8
Developing Global Perspectives
Encompassing Years 7 and 8, Stage 4 is the entry point into Middle and Senior School where we work with our students to build their capacity, courage, and confidence. The Stage 4 focus for students is on developing global perspectives and appreciating the interconnectedness of the world around them. In this stage there is a stronger integration of the digital learning environment and a consolidation of the twelve Calvary Learning Habits.

Personal agency and inquiry learning underpin our classroom and co-curricular learning opportunities in this stage and students also enjoy a taste of subject electives, experiencing different contexts that enrich learning.
Our Stage 4 model appreciates that transitioning into Middle and Senior School can be daunting for some, so we limit the number of teachers students need to engage with in school life, provide transitioning workshops for students in Year 7, and encourage our senior students to mentor and actively engage with Stage 4 students through fun events, lunchtime activities, and discussion groups.
For more information on starting Yr7 at Calvary in 2023 and beyond, download our brochure for more information, or click on the link below to book a tour.
DOWNLOAD YR7 BROCHURE        BOOK A CAMPUS TOUR
Stage 4 Gallery
Click on the images to get a full preview
BACK TO TOP