Principal
Carbrook Junior School
Springwood Junior School
Middle & Senior
Middle & Senior
View previous communications
here

Josh Wilson
Head of Middle and Senior School 
Middle & Senior
PREVIOUS COMMUNICATIONS
Middle Senior School Communications, 30 March 2023
Term 1 Week 10
OUTLINE OF Term 2 Week 1
Monday: Year 8 Incursion Living History 
Tuesday: Football Queensland Regionals (14 year olds)  
Wednesday: Football Queensland Regionals (14 year olds)  
Thursday:
Friday:  
KEY EVENTS THIS TERM
31 Mar - SS Leadership Development Day 
31 Mar – Free dress day 


Cafe Specials/Highlights for Week 1
Reflection
Congratulations to all on a successful conclusion to Term 1. It has been the first full Term 1 in a number of years and students did well in adjusting back into a normal routine. I pray that everyone has a restful and peaceful Easter break with lots of opportunities to catch up with loved ones. We are set for a busy Term 2 – please see the attached overview document in this communication. A hard copy will go in student bags at the start of Term 2.  
If you don't have a regular church family you are more than welcome to attend a service at Real Life Christian Church over the break – details are in this communication. 
Parent Teacher Student Interviews will be held in Week 2 of next term. There is an attachment available in this communication on how to book these interviews. The closing date for booking interviews will be 9am Monday, 24th April. There are three basic questions that are always worth asking your child and their teacher: 
1. Where are you doing well? 
2. What can you improve on? 
3. What steps can you take to improve? 
Parent Teacher Interview Guide
Acknowledgements
I would like to congratulate our Futsal and Volleyball teams who recently did extremely well at the Rivers contest. I would also like to acknowledge the many volunteer hours put in by our dedicated staff who make it possible for our students to take part in these events.
Futsal Rivers Championships teams made us proud, coming away with some excellent results: 
• Year 11/12 - Champions 
• Year 9/10 - Champions & Runners up 
• Year 7/8 - Champions 
• year 7/8 Girls - Top 3
All our champions were undefeated throughout the day and played at a very high standard. To our developing teams, it was great to see them improving throughout the competition and growing in confidence. Thanks to our amazing coaching staff Mr Brent Morton and Mr David Merry, our trainees, student helpers and parent volunteers for helping out.
Girls Volleyball - Rivers Championships: our girl's teams did us proud, coming away with some great results as follows: 
• Open Girls 1 - Champions 
• Open Girls 2 - 5th 
• Year 10 Girls - Champions 
• Year 9 Girls 1 - Champions 
• Year 9 Girls 2 - 3rd 
• Year 8 Girls 1 - 3rd 
• Year 8 Girls 2 - 4th 
A lot of comments were made from other schools about not only the quality of our players/teams, but also their character.  
Important Notice:
MSS Parent Presentation 4 May 2023
On the 4th of May at 6:30pm we will be hosting a parent talk with Emma Tabacaru to discuss how parents can address the topic of sexual development and personal safety with our Middle and Senior School Students. Parents who attended the Junior School event were thoroughly grateful for Emma's presentation this term and we know that this type of presentation will be incredibly valuable to our parents of teenagers. 
Please note that we will be hosting a fun evening for students in the Cunningham Pavilion and Year 8 classrooms with a G-rated movie, chess boards, video games and a sausage sizzle. So while parents receive some important information our students can be kept entertained and fed. 
Absentee Number Update
The absentee notification numbers have changed. Please see the updated numbers below.
• Carbrook Campus - 07 3209 0003
• Springwood Campus - 07 3209 0004
Absentees can also be advised by Parent Lounge.
General Notices:
Years 10 - 12 Leadership Development Day:
On the 31st of March 2023, we will be hosting a Leadership Development Day for all Year 10 - 12 students. The event will take place on-site, with Character Builders running various team-based challenges and initiatives to help our students grow their capacity for leadership. We hope this event will help our senior students understand the important role they have in shaping the culture of our College and how they can use their influence to uplift those around them.
Free Dress:
Tomorrow is our free dress day, students will be allowed to attend school in Free Dress for a gold coin donation (funds will be used to support our Children of Compassion across the College). The theme for this term's Free Dress is "Crazy Hair" to celebrate the end of our Hairspray fundraiser. Please note that this does not permit students to permanently change the colour of their hair. Students are reminded to adhere to the College Free Dress Policy to avoid being sent home.
Free Dress requirements:
• Shorts should reach to just above the knees and cannot be shorter than mid-thigh
• Students may not wear make-up
• Stomach regions should not be exposed
• Students should wear a t-shirt or equivalent. No bare midriffs, low necklines, singlets or strappy tops
• Practical closed shoes to be worn that do not impede the ability of students to participate in class or scheduled activities
• Students must wear respectable tops (clothing that has negative slogans or images will not be permitted)
Winter Uniform reminder:
Just a reminder that Term 2 is approaching quickly. Boys will need to have ties for Terms 2 and 3 and students will need to have a jumper or jacket that is appropriate for their respective formal or sports uniform.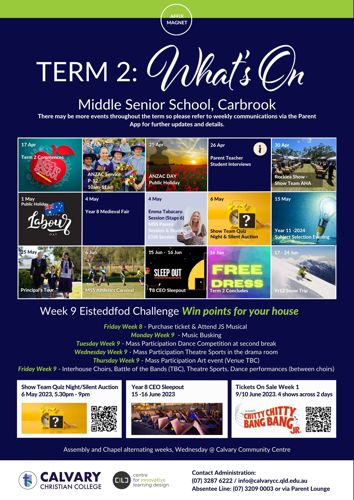 Yours sincerely
Josh Wilson
Head of Middle and Senior School and Innovative Learning Design

CAPA Update
Dr Gary Holley, Head of Calvary Academy of Performing Arts
Thank you to the students for your hard work during the term.  Please make sure that you have your instruments at home during the holidays so that you can keep practicing.
A reminder that all lessons and rehearsals will commence in Week 1 of Term 2.
I wish you all a Happy Easter.
Battle of the Bands
Coming Up in Term 2:
Thank you to the parents and students for being in attendance for rehearsals and lessons.  Just a reminder that if students are going to absent from rehearsal parents need to email the conductor by 9.00am.  For private lessons, parents need to notify the teacher by 7.00am, if your child is going to be absent.  No Make Up lessons will be provided for late notifications or failure to notify/attend.
We are looking for students that are interested in joining ensembles for 2023. Below are the opportunities available.
Chorale: Girls Ensemble – Monday 7.30am – 8.25am
Orchestra: Flute, Clarinet, Saxophone, Trumpet, Trombone, Percussion – Tuesday 3.30-4.30pm
Boys Ensemble: Open to any boys Years 5 – 12. Monday Second Break (1pm)
All students in the college are invited to join the Ensemble Program for 2023. Please see below the Ensemble Table for 2023:
Please use the following link to sign your child up for the Ensemble program:
All correspondence regarding CAPA, including questions, please send to Emma at performingartsacademy@calvarycc.qld.edu.au

Real Life Christian Church 
"IT IS FINISHED."

These are the words powerfully uttered by Jesus (found in John 19:30) as he gave up his life on the cross.
Three powerful words.

We warmly invite you to join us for our Easter Services on Good Friday (7 April) at 9:30am, and on Easter Sunday (9 April) at 9:30am for our Easter services.

Both services will be followed by great hospitality in our courtyard including good coffee and Hot Cross Buns and Doughnuts.

[PLEASE NOTE THAT OUR EASTER SERVICES WILL NOT BE LIVE STREAMED]