Principal
Carbrook Junior School
Springwood Junior School
Middle & Senior
Middle & Senior
View previous communications
here

Josh Wilson
Head of Middle and Senior School 
Middle & Senior
PREVIOUS COMMUNICATIONS
Middle Senior School Communications, 15 September 2022
Term 3, Week 10


Dear Parents and Carers
It has been a busy and wonderful term. I really hope you had the opportunity to see our musical Back to the 80s last week.  I was so impressed with the talent and enthusiasm of our students – they did so well! I would like to thank our Creative Arts team, Mrs Esther McDonald, Mrs Francesca Thomson, Mr Lachlan Gibson, and Mr John Ong. I would especially like to thank Dr Gary Holley for his coordination and leadership of the musical – it's one thing to organise a musical, it's quite another to run a musical with a live band!
As we move into the holiday break, I would like to wish our community a restful and peaceful break. Please encourage your children to have a good rest, to get out and about be active, and not spend the whole holiday break in front of a screen.
Group Photos
On Thursday 6 October and Friday 7 October we are hosting our group photos as per the attached schedule. These photos capture the vibrant community and participation of our students across various Co-curricular activities and we urge all parents to take careful note of these dates, the uniform requirements and times that students will be photographed. 
 Uniform Requirements for Term 4
Please note that students are required to wear the College's Summer uniform. This requires our male students to no longer wear a tie, Year 11 & 12 students no longer wear their blazers and our female students do not wear stockings or long pants.
Hair Requirements when returning to school 
Please take note of the following important excerpts from our parent manual concerning hair expectations for students at the College:
Hair may only be of a single natural colour 
Students are not permitted to have haircuts that create patterns in the hair, dreadlocks, rat tails, mohawk, mullets or similar styles of hair are not to be worn. 
Neat hair that does not cover the forehead or face. 
Long hair is to be kept neat at all times.
The College does not want to be put into the difficult position of asking students to leave school the first day of Term 4 to rectify their hair, or remove them from group photos for in appropriate hair styles. If we could have the support of our parents and guardians in upholding our high standards for students at Calvary, we would greatly appreciate it.
Chapel Practice
As the first Monday of term 4 is a public holiday we will be starting school on Tuesday 4 of October. Please take note that we will be having a very important Chapel Practice to thank our Year 12 students for their service, leadership and dedication to Chapel! All students who have been involved in the Chapel team are welcome to join this celebratory event!
Middle and Senior School Cross Country
The MSS Cross Country will be held on Wednesday 5 October (Term 4, Week 1). This year's program will incorporate the following:
A competitive race for those who are aiming for Age Champions 
An obstacle course/fun run, where students will earn points for their House for each lap they complete in the allotted time
Inter-House games (various sports)
It is an expectation that every student will be involved in either the competitive race or the obstacle course (or both).
Due to the 1pm start, students will have Period 6 (12.15-1.00pm) as their lunch break, to allow time to prepare for their events.
The program of events is as follows: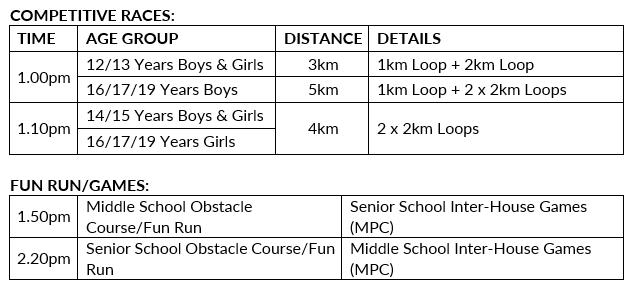 Presentations will commence at 3pm.
Our students have also received information about our fundraiser ('School Fun Run') that we are including as a part of this day – we are aiming to direct funds raised towards upgrading of our resources for the Sports Program. Your support and encouragement with this will be greatly appreciated.
Students are permitted to wear their House-based sports uniform to and from school on this day.  Parents and family members are welcome to attend to cheer on the students, and are requested to sign in at the Front Office before heading to the oval.
Fun Run Update
So far our student's fund raising efforts have raised just under $13,000!!!   These funds will go a long way towards our plans to upgrade/expand the Netball courts at Springwood and the Bitumen Basketball courts at Carbrook.
Congratulations to Casey Dickson and her class (Stage 2A) for having the highest number of registered fundraisers in the College. Our next 'major' competition is for individual students who raise:
$100 or more… go into the draw for $50 Rebel Sport gift cards
$250 or more… go into the draw for a $100 Rebel Sport gift card
This will be 'drawn' at the end of Week 1.
Well done Calvary!
You are still able to be part of the Calvary Fun Run Fundraiser by clicking the link below.
Announcements from Mr Arraiol (Head of Wellbeing and Community)
Anything but a backpack day 16 September 2022:
As part of our Stage 5 leaders initiative to raise funds for our Children of Compassion, they are hosting a "Anything but a backpack day". Students are encouraged to carry their books and lunchboxes in a random and wacky backpack alternative. However, there are a few rules to this item: 
It must be easily moveable, 
safe for yourself and others, 
must fit inside your locker 
and most importantly cannot be a living thing (or previously alive) either.
A gold coin donation is required and the most creative idea wins an awesome prize. We hope our students get excited for this initiative and start thinking of ideas to bring in on Friday, the 16th of September, next week.
EXO Day 16 September 2022:
EXO Day is a student led event to celebrate our individuality, practice positive expressions of our individuality as we enjoy some wonderful activities. The theme for this year's EXO Day is: Freedom and specifically Freedom we find in Christ. 
As part of our EXO day celebrations we will be having an earlier first break followed by a student led assembly packed with inspiring videos, worship, panel interviews and games. Students will then enjoy the activity they have chosen from the following list:
Blindfolded Obstacle Course
Outdoor Games
Chalk Drawing
Mindfulness Colouring in and a movie
Problem Solving Challenges
Reflective Games/Activities
At the start of second break students will be able to enjoy a Petting Zoo free of charge and we encourage students to bring some money for the following items that will be sold: Fairy Floss, Ice-Cream Truck and Food trucks.
This is a free dress event, please see attached free dress guidelines.
OUTLINE OF Week 1 TERM 4
Monday: Public holiday
Tuesday:
Wednesday: Cross Country & Fun Run
Thursday: Group Photos
Friday: Group Photos
Josh Wilson
Head of Middle and Senior School and Innovative Learning Design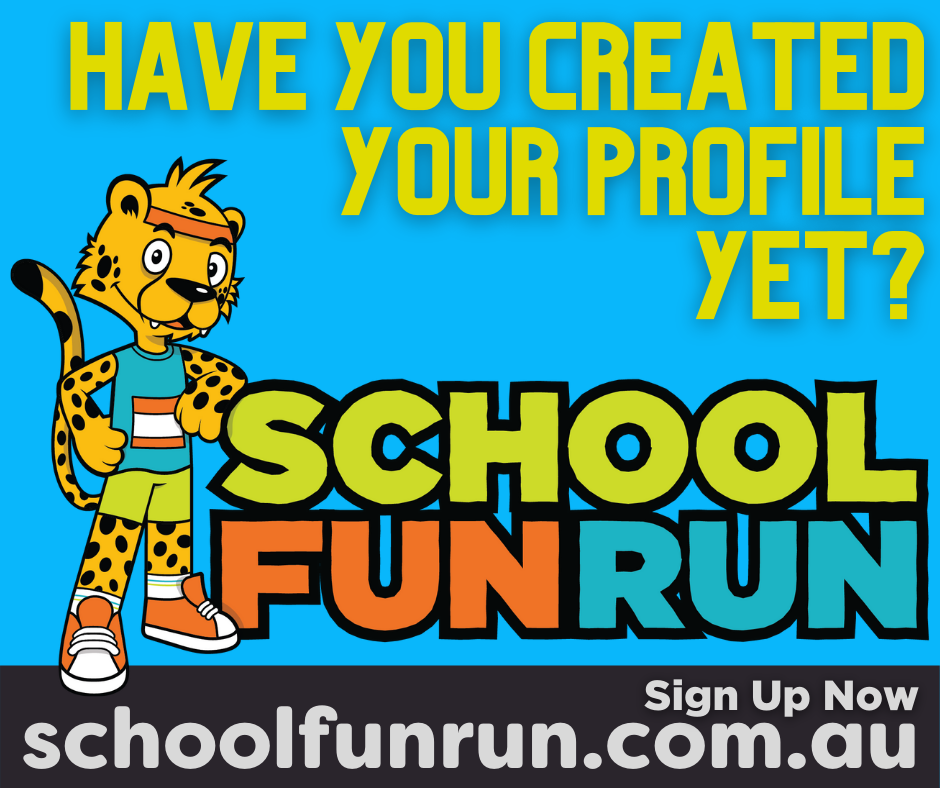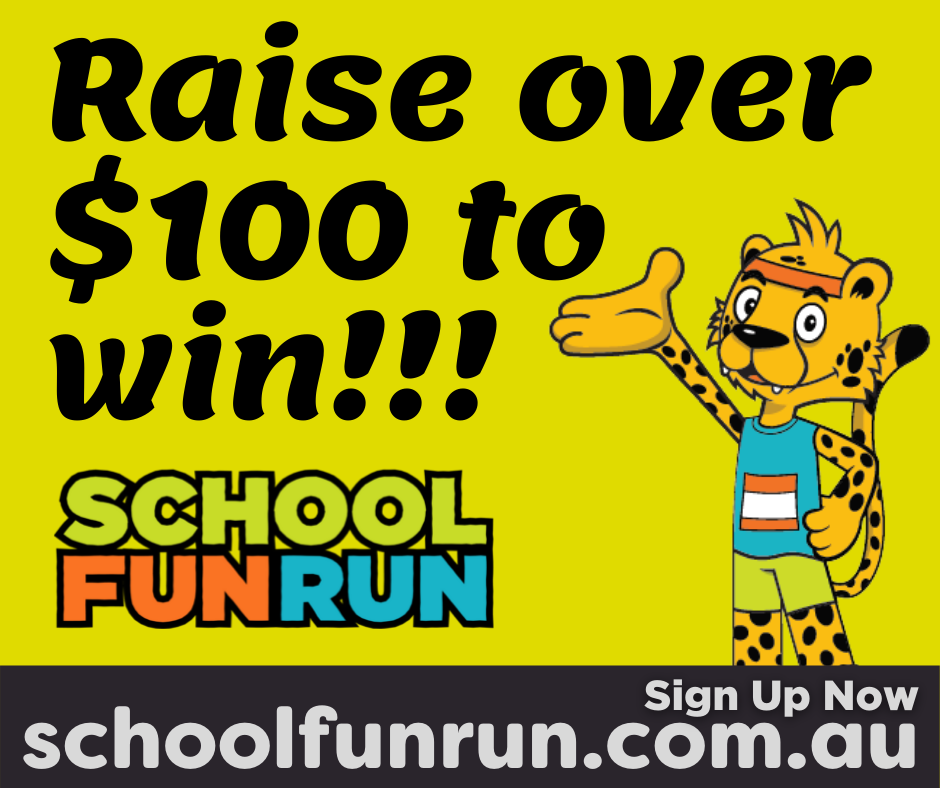 CAPA Update - Dr Gary Holley, Head of Calvary Academy of Performing Arts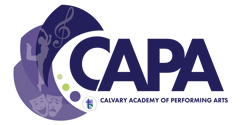 What an amazing week last week was for the College. 'Back to the 80's' was a huge success and many positive things have come from the event. Congratulations to all the students involved. You were a credit to yourselves and to CAPA. We have so many talented students at Calvary, and we are so very proud of your achievements. Congratulations also to Mr Gibson, Mrs McDonald, Mrs Thomson and Mr Ong for your dedication and commitment to sharing your passion with the students to bring the show to life. Thanks also to the many staff and parents who worked tirelessly behind the scenes, to assist the evening to run smoothly. 
CINEMAGIC - Showcase 
The 2022 showcase is fast approaching on Saturday evening 22nd October. There will be rehearsals during the day with the concert in the evening. There will also be a rehearsal at Carbrook on Thursday 20th October during school time. Tickets on sale now.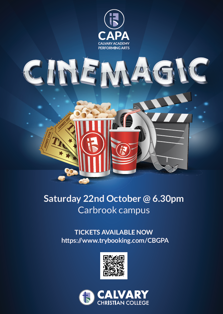 End of Year Recital 
Please add to your calendar the end of year private lesson recitals which will be on Sunday 13th November. Times to be confirmed shortly. 
Carnival and Carols 
This year our carols is going to look slightly different commencing with a carnival followed by carols. The date is Sunday 27th November, 1pm – 7pm. Please put this in your diaries. 
Enrolments for Lessons and Ensembles in 2023 
At the start of Term 4 a link to sign up for next year's lessons and ensembles will be sent. There will also be a link for students currently in Year 2 wanting to join strings and students currently in Year 3 wanting to join band. 
Gary Holley
Head of Calvary Academy of Performing Arts (CAPA)