Inspire Series: City Kids with Farmers Hearts
26 August 2022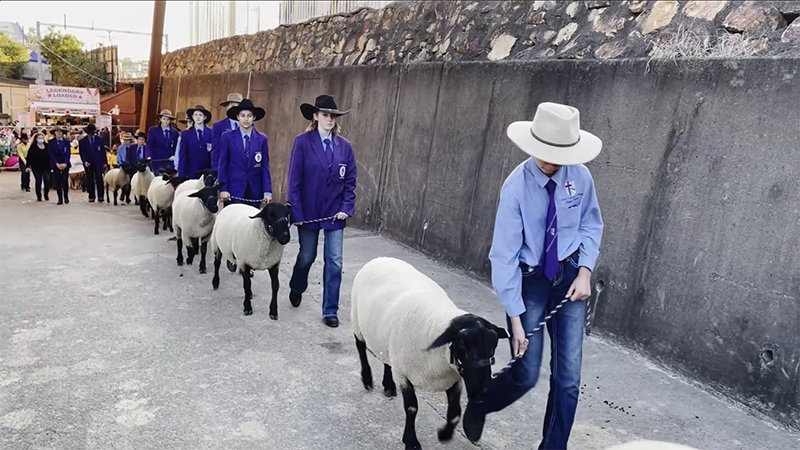 One of our exciting and unique co-curricular subjects that is offered at Calvary Christian College is our Agricultural program. Some would say it is the ultimate STEM subject where students get to learn in an outdoor living space. From looking after the animals, taking cooking classes and little Preppies collecting and counting eggs with Farmer H (Mrs. Haupt).
Our award winning Show Team is an extension of our Agriculture Program. It is where our participating students get the opportunity to put their skills into action and test their knowledge at shows throughout the year being sheep handlers and competing in Young Judges where they learn about wool, sheep, goats and more. Shows can be anywhere from Gatton, Beenleigh, and Toowoomba through to the big arena which is the Royal Queensland Show… better known to Queenslanders as The Ekka.
The Royal Queensland Show is renowned for bringing the city and country together to celebrate our agricultural heritage, and it's a show that Calvary has been a part of for over ten years.
Planning for an event like Ekka starts many months before our big move-in day, and our participation in 2022 was particularly exciting as the previous two years, Ekka had been cancelled due to the COVID pandemic. Not only this, but our school farm suffered huge infrastructure losses in the February floods earlier this year. Despite the setbacks, we entered in animal, young judges, handlers and school exhibit competitions with high hopes and expectations.
So, what's involved?
The world of Show Team is a term often heard in conversation but for the most part, unless you are in that space, not a lot of people truly know what is involved. So, here is our 'behind the scenes' look at why we go and what it takes to give our city kids with farmers hearts, an experience they will never forget.
It all begins with selecting and registering our animals. We then plan packing lists and start building the team;
20 sheep, 8 lambs, 6 chickens, 4 alpacas, 17 students, 2 staff and 4 parent helpers.
With literally everything they all need while we are at the Show for six days! Yep, we pack people and animal food, cooking equipment, cutlery, plates, cups, tables, and chairs… everything!
The Ekka has all manner of animals on display; from sheep, cattle, horses, alpacas, dogs, cats, poultry and even fish. There are numerous competitions for the animals and their handlers (our students), as well as displays that allow those attending to get up close and personal with many of the animals that make up our valuable livestock industries. Of course, Ekka has its famous sideshow alley, evening fireworks, the show bag pavilion as well as a variety of other informative industry exhibits that our team love to visit in their downtime.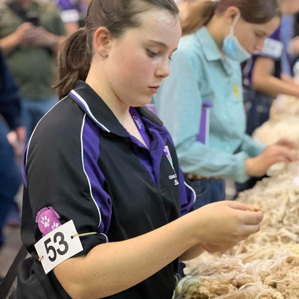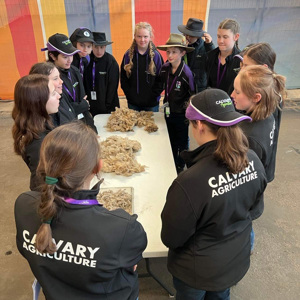 "Despite the weeks of planning, sore feet and sleepless nights, we get to build young people. They reach their potential by building resilience, they have teamwork, learn new things and step outside their comfort zone and the growth in just one week is amazing to watch. That's why I do Ekka"
~ Ang Haupt, Farm Manager and Calvary's Show Team leader
 Our days at Ekka are long, but SO rewarding
Believe it or not, the pens at Ekka do not keep themselves clean. So, the team wakes up before 5am each morning to head over to the Large Animal Pavilion to 'muck out' our sheep pens. That means cleaning out all of the soiled sawdust and spilt food and replacing it with fresh sawdust, ready for the general public to arrive in a few hours. We also use this time to give the animals their morning feed.
After the muck out, we head back to the Beef Hilton where we have a small kitchen and shipping container 'rooms'. We have breakfast and hold a team meeting to go over the day ahead. We check everyone is in the correct uniform for the day's proceedings, and off we go. An Ekka day can consist of rotations between – homework, talking to the public at our sheep pens or having free time, as well as competing in Young Judges competitions or showing our livestock.
School must go on…
Maintaining school is a top priority at Calvary Christian College. Before attending Ekka, students must complete a study plan with their teachers, so they have a record of what they need to complete while they are away. Our students do their homework during rotations, where the expectation is for them to individually work through their study plan and ensure that they stay up to date. While we do go to Ekka with a timetable, it is VERY fluid and changes regularly. Sometimes our schedule makes this difficult for homework time, but our team is committed to their studies and often forgo their free time to get things done. Having an adaptable and agile team, means we can go with the flow.
"The pivotal thing for me at Ekka, it is the chance to watch our kids extend themselves and grow. Going outside their comfort zone and doing things they never thought they could do. It is hard work but so worth it"
~ Lisa Bullas, Agricultural Science Learning Designer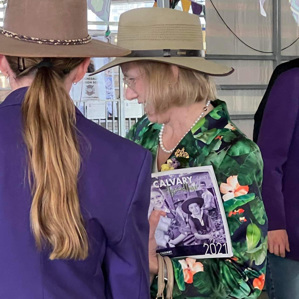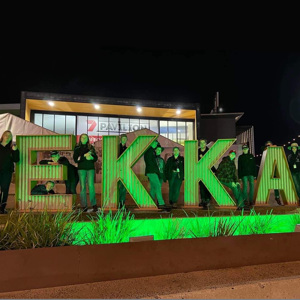 Real life learning; Growth and leadership
The Calvary Show Team's student leadership reaches far beyond just having Captains. We believe in students mentoring students. What better way to learn than from your peers?
It is in the leadership space that our senior Show Team members shine, as they pass on to our younger students the knowledge they've acquired from those who have gone before them. Our seniors also reach out to the younger team members who attend Ekka for their first time and might need that little chat or pick me up. Ask any student what they think it's like to be a member of the Show Team, you will regularly hear them say; it is like one big family.
Part of a student's commitment to Ekka is that they participate in all the Young Judges Competitions, which include wool, dairy goats, sheep and alpacas. In 2022, we had a large number of students place in these competitions across the week. They did themselves and the College proud.
We also had the opportunity to meet the Governor of Queensland, Her Excellency the Honourable Dr Jeannette Young AC PSM. We made sure that our area looked amazing. The students were tidy and waited for her to arrive. The seniors selected a peer to speak and usher her around. The Governor received a copy of our yearbook, which, excitedly, she continued to carry throughout her inspection of the Large Animal Pavilion. The Honourable Mark Furner – Minister for Agricultural Industry Development and Fisheries, as well as Councillor Miriam Stemp (Logan Division 10), also visited our stand and met the students throughout the week.
Success comes through hard work
Ekka 2022 was easily our most successful ever as a school. Even though our farm was completely submerged with floodwaters earlier in the year, our sheep were in excellent condition and won several top awards, including the Supreme Ram of Show, and Champion of Champions Breeders Group! We also received accolades as the Most Successful School Exhibitor.  You could not wipe the smiles off our faces, and we were beyond proud of what we, as a team, had achieved.
Ekka is an experience that is energizing and exhausting all at the same time.
Calvary's participation in the Ekka encourages personal growth, fosters team building and deepens each student's passion for showing and judging. They grow in resilience and develop lifelong friendships. Our city kids have the biggest farmers hearts!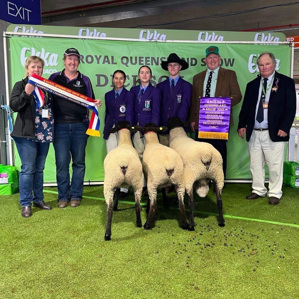 As with all good things, they must eventually come to an end and after six days, it was time to return the sheep to the paddocks, the gear to the shed and return our weary students back to their families. Together, we will continue to share stories about our Ekka adventures and dream about the exciting times we have to look forward to at the 2023 Royal Queensland Show.
It would be remise of us not to thank the people who work tirelessly for months to plan Ekka, and give so much of their own time to make the Ekka journey a reality. Ang Haupt, our fearless leader and Farm Manager does an incredible job of guiding the Show Team throughout the year and at Ekka. And of course, massive thanks also goes to Lisa Bullas, our Agricultural Science Learning Designer, who works tirelessly alongside Ang to ensure that our students reach their full potential. And ultimately, to all of our parents who invest their time into ensuring students get the opportunity to go to shows to develop their skills in readiness for the Ekka stage.
Learn more about the Calvary Agriculture Program
BACK TO BLOGS