Inspire Series: Angela
05 April 2022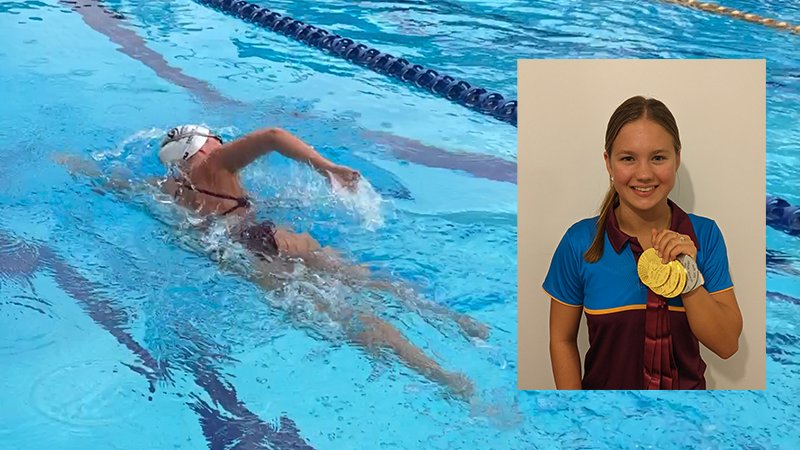 When we were commissioned with producing the 'Inspire Series' of videos for Calvary, the brief was simple. We want to showcase the amazing students at the College and what they have achieved in their personal journey thus far. For me, it was a no brainer to interview Angela (Ange), who has been achieving outstanding results since she was 10 years old.
If you speak to Ange, you get a sense straight away that she is an amazing kid. She has two very clear goals. Primarily to be part of an Australian Team because of the family-like community that comes with being a part of a team. And possibly to represent Australia at a Paralympic Games, maybe Paris 2024.
In doing our research for the video, I caught up with Ange and her Mum to chat through her story to really understand the journey thus far. Hearing her talk through the questions had me inspired.
To give you a little back story, Ange was born with a congenital deformity of her right hand, meaning its growth was stunted, and her right foot was amputated, in vitro, through her ankle, and she requires a prosthetic leg. Originally her parents got her into swimming as it was good for her spine, as she was susceptible to Scoliosis. And in doing so, Ange took to the water like a fish. In races, she would often finish first or second, and that was against able-bodied people.
In Yr4, her coach at the time spotted her talent for swimming and asked for her to join the squad and swim for their club.... and the rest is a blur in history. Over time, Ange would receive invitations to swim at various events, which included the Paralympic Trials for Tokyo, and to join the AIS Para Potential program.
Ange is now 16 and over her competitive life has achieved a number of both State and National Records for her age and classification. For those playing at home, Ange's classification is S10 for freestyle, butterfly and backstroke, and SB9 for breaststroke. 
Ange has cut her training down this year to once a day, 6 days a week, down from 9 times a week, in an attempt to balance her life and enable her to achieve her goals at school as a Year 11 student. Her weekday training includes 2 – 2.5 hours of swimming and gym work and a Saturday training session of 3.5 hours. 
One of the questions I threw at her was how she handles the pressure. Her response...
If I am angry, I used to just vent to anyone who is close to me. I tended to cry if I did really badly or just go silent. I have learned though to have a poker face until in private…. You can't let a race affect your next race either. 
At the Paralympic trials in Adelaide, Lakeisha Patterson (the current Paralympics Captain) approached me. I told her that I wasn't going great, and she told me that the first Australian Team trial is always hard and that it can take time to make the team. She also said that a lot of people my age can't do what I do, so I am lucky and to keep pushing forward. She encouraged me to stay strong.
The way we finished the interview was to ask her if she had any heroes she was aspiring to be like. Without any hesitation, Ange explained that she used to have heroes but doesn't focus on it anymore. She further explained that you can look up to someone, but everyone is different in how they succeed. So for Ange... 'because I am not a Paralympian yet I strive to be the best version of myself that I can be'.
BACK TO BLOGS