Good News Week @ Calvary
24 August 2023
Good news week in previous years has been Prayer & Mission week. The Chaplaincy team, made up of Claire, Dan and Jayden sat down and had a discussion on what we want to do and how to frame it and landed on Good News Week because really the main and overarching main idea is that the world we live is a world that is so defined by bad news so consistently that we wanted to have a week that focussed on what's actually going right. In 2 fold, what is the good news in the world and what is happening in the world that is worth celebrating, and when we focus on the good news it helps us to cultivate it. But also recognising that as a Christian College we have THE good news with a capital T, being Jesus.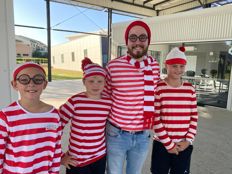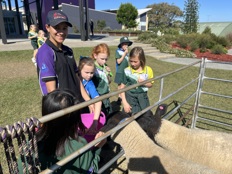 So, having a better understanding of what Good News Week is at Calvary Christian College, we sat down with Dan and Jayden separately to hear about how it went down at JS and MSS.
Pastor Jayden telling us about Junior School
Dan and I sat down in the weeks leading up to it with the respective leaders in the space. In the Junior school I had the absolute privilege of sitting down with the captains, prefects and leaders doing leadership development which is such a joy and seeing them develop and create a picture of what it means to be a leader. So, we took this idea to them and for the most part it was more about what they were doing to bless and serve the school community than it was about Dan and myself doing and leading things. We gave a lot of leadership and responsibility to them which was cool and that was great to see.
Across the week very Dan inspired, is that we created a lot of puns that were easy language to remember and focus the different themes that were happening. Different activities were centred around these puns so for example: "good ewes" where we had the sheep come up from the farm as a petting zoo, the captains were able to run this.  We also had "good chews" a bake sale which created culture across the campus. A lot of these activities happened through the week.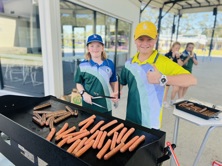 Junior school and middle senior school primarily held their activities in the pavilion to centre that celebration which created a culture of joy across the week. A place that anyone could just come to, and hang out and enjoy some things that the captains were doing to bless and serve the community. We also had "good moves" a dance club at the Springwood campus, and then "good shoes" a sporting activity that the captains ran games on the oval, and "good bbqs". Each activity was run by a small group of the students,  Junior School leaders created groups and then ran it by themselves.
One of my favourite moment was one of the group of girls decided to do a "good news" paper I had no hand in this at all and leading up to chapel they interviewed a whole bunch of students asking them what was their "good news" story, "what's been going well in your life?" etc, they put together this masterfully edited video which was just such a joy to watch and hear these stories and they had so much fun with it!  A real joy to step back and watch these leaders want to love their school community and their friends.  The other key part was the chapel at each campus, a great opportunity to focus as a community on the good news and have a bit of fun and share stories of what's going well in the world and the initial theme and identity of the week.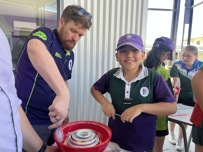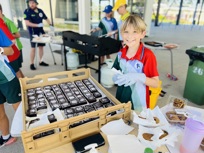 Going from the week I don't want it to be just a week of events. We are being and bringing good news is an all-year thing and every day thing. Finding space in our regular rhythms, and communicating this in a way to students to focus on something good, good news in your life and thank God for what he's doing and allow that joy and celebration to leak into other peoples lives as well so that when people look at Christians and Calvary as a school they actually see there is something transformative there and a celebration of joy rather than the natural focus on things going wrong which is what we can slot into by default, and I think we want this to be a culture that gets cultivated. I was so overjoyed by the year 6 leaders that they were coming to me and saying "Can we do stuff like this all the time?" and bring about a culture of celebration and joy.
Moving into next year and Term 1 – how are we going to give our new leaders opportunities to serve and leave a better place than they found it and so pouring into that is exciting!
Pastor Dan telling us about Junior School
Well let me start with good news first of all.  Extreme poverty in the world do you think it has over the last 20 years, doubled, stayed the same or halved? It's actually almost halved! There is this cool book called "Factfulness" which counters the negative news narrative which we have bombarded to us all day every day by the media. And it counters the negative narrative with actual facts about good news that is happening in our world. This time, this age is actually the best time in history to be a human. There is more  freedom, more education, more equality than ever before in history. So even though it might seem like there is more bad news going around, we just don't hear about the good news and there is lots of good news.
So that's what Good News Week is all about. You know what let's counter that narrative with the good news that actually happens in our world, lets pay attention to that and be and bring the good news. And part of that as Christians to is bringing THE GOOD news which is the saving message of Jesus. But being and bringing good news is something that anyone can be part of regardless of where you're at with faith. It doesn't take much to get involved. So part of Good News Week, we saw the student leaders get involved in their own unique way and style, coming up with ideas about how they can be and bring good news at Calvary Christian College. It was so fun watching them take the reigns and take ownership over each day. Where we had unique activities each day which was run by different groups of students. There was so much student by-in by the broader community.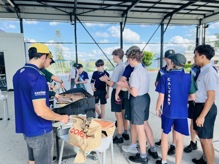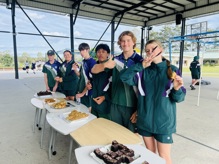 My encouragement to the school community would be: Good News Week is about jolting us out of the negative news narrative. It takes a bit of effort to stay looking for good news and we can cultivate this as our regular rhythm. Let's try and be more grateful and thankful for what we have in our lives and not only that, but be good news to somebody, and that's pretty easy to do really, just requires looking up.
Chaplain Dan (Robbo) Robertson & Chaplain Jayden van Dyken

BACK TO BLOGS