Principal Communications, 30 May 2022
30 May 2022
Dear Parents and Carers
Perhaps the best thing about last week, was the reappearance of sunshine! Throughout this rainy period we have, however, enjoyed the sunshine of our students' smiles. The recent Grandparents' Day, Prep Come and Play, Senior School Subject Selection Evening, the Step Up to 7 event and Under 8's Day are evidence that we are emerging from the constraints of the past two years demonstrating that we remember how to enjoy and celebrate Vibrant Community.
We look forward to the Pizza and Movie night on the Springwood campus this coming Friday and we hope to see many of you at the Cultural Festival next Wednesday, 8 June. This event, where we open our Carbrook campus to the community, seeks to share with you the vast array of co-curricular clubs, societies and groups that make a rich contribution to the way we 'grow the whole child' through the diverse activities and opportunities for growth available to your children. The afternoon culminates in the much loved and anticipated Gala performance evening where students showcase their growing talents.
This afternoon we celebrate the retirement of two of our well-loved staff members: Sue Hartley and Rod Oates. This event takes place on our Carbrook campus in the Cunningham Pavilion from 4pm.
Sue Hartley is the longest serving member of our staff and has held many and diverse roles as she has given her many talents to the mission of Calvary. Sue has worked in Early Childhood education, in office administration and finance and she remembers fondly the original farmhouse on the Carbrook site that was once the Administration office. A tangible legacy of Sue's time here is the wording of the recently installed Mango Tree Information board. Sue has seen Calvary through many changes as she served across the tenure of five different principals. We wish Sue the happiest of retirements and I know that God will use her as she commits to a calling to full time ministry. Her work with young women is a response to a real need in our society.
A few years ago, I saw the impact of Rod Oates on his students demonstrated very clearly in the high regard a particular year cohort showed as they celebrated their valedictory event. As you talk with alumni who were taught by Mr. Oates, the impact of a remarkable teacher, mentor and deeply spiritual man is obvious. Along with teaching Mathematics, Rod has been instrumental in our implementation of TASS (The Learning management System) and more recently he has spent many hours providing useful data in forms that help shape good decisions for the future of Calvary. We have enjoyed the bass guitar on many occasions as staff have gathered to worship. Rod's commitment Calvary is shared by his supportive wife, Beth and our community currently enjoys two more generations of Oates relatives actively participating in daily Calvary life. We wish Rod well as he enters a period in his life where he can 'go fishing' whenever he likes! And we hope there will be many years of camping ahead of him where he can enjoy the beauty of God's world.
As we head into the final three weeks of term, I hope you and your children will enjoy the wide variety of experiences Calvary has to offer. No matter which campus I am on, I delight in being part of a College where every child matters, and every child's growth is the focus of our energy and efforts. We celebrate our partnership with you as, together, we strive to help our young people make good choices to ensure they become all they can be.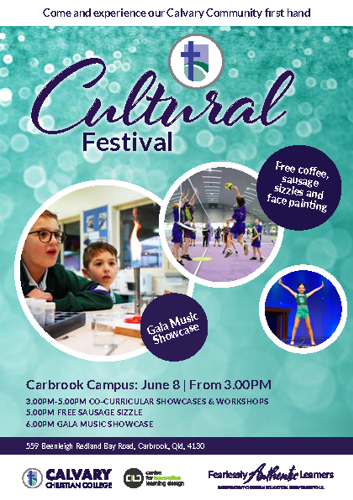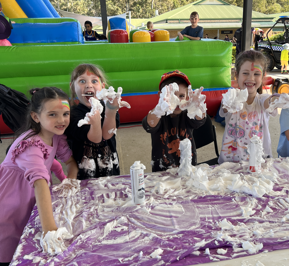 Yours sincerely
Cherylynne Gostelow
Principal and CEO
BACK TO COMMUNICATIONS
BACK TO TOP