Principal Communications, 26 April 2022
26 April 2022
Dear Parents and Carers
ANZAC Assemblies
Anzac memorial assemblies have been an important part of the start of this term, with Springwood students honouring our Anzacs last Friday and Carbrook students holding their assembly this morning. I appreciate the work undertaken in our community to ensure our children understand and remember those who have defended, and continue to safeguard, our country. Many students have also had the opportunity to participate in community services across Springwood, the Redlands and in Beenleigh.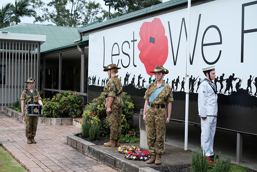 .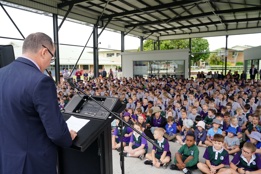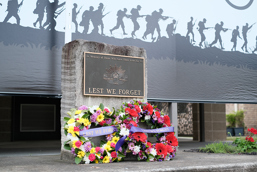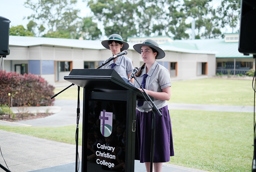 The Culbert Project
Last week was a busy one with classes and some co-curricular activities resuming as well as the celebration of the opening of the repurposed Cunningham Pavilion on the Carbrook campus. Senior staff have also had a meeting with the Block Grant Authority representatives to consider their response to our application for a significant grant contribution to the next major capital works project, the Culbert. The Culbert is the two-storey building on the Carbrook campus, built in 1999 and housing classrooms upstairs as well as a large library facility downstairs. In 2018 the Carbrook P&F contributed funds to support the start of the project to repurpose the upstairs space and we have four Year 7 classes enjoying this refreshed space. Our intention is to complete the dream of extending the downstairs space and refitting it to accommodate eight learning areas. Over the coming months, the design and its purpose will be shared with parents in more detail when you attend other functions on campus. I shall also prepare a video for the website that will share this important project with you more fully. Staff impacted have been consulted in the design process and we are looking forward to the renewal of this space.
Happy Hens
Happy Hens at Springwood proudly celebrated their 7th birthday last Thursday and the morning saw Happy Hens well patronised, and we loved hearing our young singers entertain us. Performance opportunities are a significant part of our CAPA program. Thank you to all in the community who supported this special moment.
COVID- Ongoing
You may be aware that COVID restrictions are set to change once again: from 28 April, people who have a positive COVID diagnosis will be required to isolate for 7 days from the date of their first positive test (PCR or RAT). They may return to campus on the eighth day and should wear a mask for the next 7 days when they are not at home. Close contacts are no longer required to isolate. We are still in the position where we have staff members and students absent owing to COVID, and as a learning community, we continue to work hard to support the learning of all students while we continue to provide a safe and supportive work environment for our staff. Thank you for your patience and encouragement of our teachers and your children as we continue to navigate disruptions to our programs.
NAPLAN
NAPLAN take place shortly and we are interested to see how the student performance on this benchmark tests aligns with our other benchmark testing the College chooses to use as well as our evaluation of student learning. Our data suggest that our students have maintained and continue to make good learning progress despite the disruption. This is attributable to the positive partnerships between families and the College as you have supported your children and to the professionalism of our staff. Our community has managed these challenges well.
Canberra Trip
We continue to pray for the Year 6 students and staff on the annual Canberra trip. I am sure you will enjoy the photos they share on Facebook and we look forward to hearing the stories of their adventures on their return.
P&F Letter
The P&F Executive have prepared a letter that updates you on the progress on developing a new look parent engagement process for you. (See link below) I have my first focus group chat later this week with class parents serving Carbook Junior School. Please look out for your opportunity to join in the conversation.
I trust you are enjoying the many Monday holidays!
Yours sincerely
Cherylynne Gostelow
Principal and CEO
BACK TO COMMUNICATIONS
BACK TO TOP